Sales teams have long known the value of customer relationship management (CRM) systems for more efficient and effective sales operations.
However, CRM automation functions are now adding even more value to the bottom line.
In particular, automating lead routing and nurturing can help sales teams focus on the most promising leads and close more deals.
Other automation functions that CRM tools are now getting good at include automatic lead capture from websites and other online sources, intelligent lead scoring and grading to prioritize leads, and campaign management and execution, which in turn includes email marketing and SMS marketing.
All of these automation functions help sales teams move leads through the pipeline more efficiently and close more deals.
In short, CRM automation is a powerful way to drive more revenue.
Do I Need CRM Automation?
For both large and small businesses, spreadsheets and the old-school Rolodexes have already become relics from a long-lost past. This is in part because today's customers are savvier and more demanding.
What's more — they expect a lot from your business, which means you have to focus on customer satisfaction, and CRM process automation can save you a lot of time, money, and effort in getting there.
With the right CRM automation functions, you'll be able to not only save time but also generate more revenue. How?
Essentially, CRM automation helps you meet your customers with the right message at the right time. For example, your potential client could be extremely busy, switching between multiple screens during the day.
How are you going to meet this customer with your pitch and make the sale? How will you even get their attention?
CRM automation tools allow you to build a close working relationship with all your customers and make it easier to maintain those relationships. They help you get organized and manage complex tasks easily.
As your company and client base grow, your CRM automation tools should also be able to scale operations.
CRM automation helps your sales rep track their customer engagement and build on it while freeing their energies for more complex tasks.
In a ">survey, about 80% of marketing automation users saw an increase in the number of leads, and 77% had an increase in conversions.
Also, 74% of the respondents said CRM automation technology's ability to save them time was its largest benefit.
Whether you love it or hate it, CRM automation is here to stay.
So, let's take a deep dive into how your company can get started with CRM automation. In the later section, we'll look at the key automation functions that can boost your revenue.
We'll also look at some examples of automation functions to give you a clearer picture.
Read more: The Importance Of CRM For Construction Business: Guide Blog
How Do I Get Started with CRM Automation?
Here are five simple and actionable steps that will help you get started with CRM automation immediately and do your first email marketing campaign.
CRM automation can be a complex process but these steps will give you a broad outline on getting started.
Read also: What Is CRM Automation? Learn the Basics Here (Guide Blog)
Step 1. Select a CRM software that offers everything
There are many kinds of automation software in the market today, and choosing the right CRM automation tools is the first and most pivotal step.
First, get crystal clear on defining your needs and your budget. Do you need an all-in-one CRM solution with built-in marketing automation and sales analysis? Or is your requirement limited to customer support ticketing and live chat?
Decide which CRM function needs to be automated for your small business.
Step 2. Train your teams for CRM implementation
Once you've found your perfect match for your CRM automation needs, the next step is to give your team and sales reps the right training and onboarding for effective CRM implementation.
The bare minimum is to expect the brand to give your team some free training. Some software companies will customize the implementation plan for your business, so check about that too.
Without this crucial know-how, your CRM investment will not translate into any meaningful results.
Step 3. Import all your customer data
You can't have business growth if you don't have customer data.
Getting this step right can and will save you a lot of hassle in the future.
Ask the CRM provider for help in this step and see if you need automation for contact management.
You should ideally be able to import customer data from any online source like your Gmail, CSV files, and more. Right off the bat, your CRM should also enable you to build your email distribution lists.
Step 4. Create a content and sales strategy based on your goals
Once you have contacts imported, you can begin marketing to existing and potential customers. Based on your goals, you can now create a new content strategy.
For instance, if you are running an email marketing campaign, then you'll be able to create customized email templates to give a personalized experience for maximum customer satisfaction.
Step 5. Measure and review results
Once you've started your campaign, you will be able to leverage CRM metrics to analyze and understand the results of all your efforts so far.
Your marketing team can analyze information like the click-through rate for your emails and other metrics around email bounces, unsubscribes, etc.
Your sales team can keep track of information like where in the sales funnel a potential customer was dropped, and other such customer data.
You can leverage all these complex insights to design a powerful marketing campaign and a more streamlined sales processes in the future.
Examples of CRM Automation Software Tools
Let's take a quick look at a couple of CRM automation tools that have excellent user reviews.
HubSpot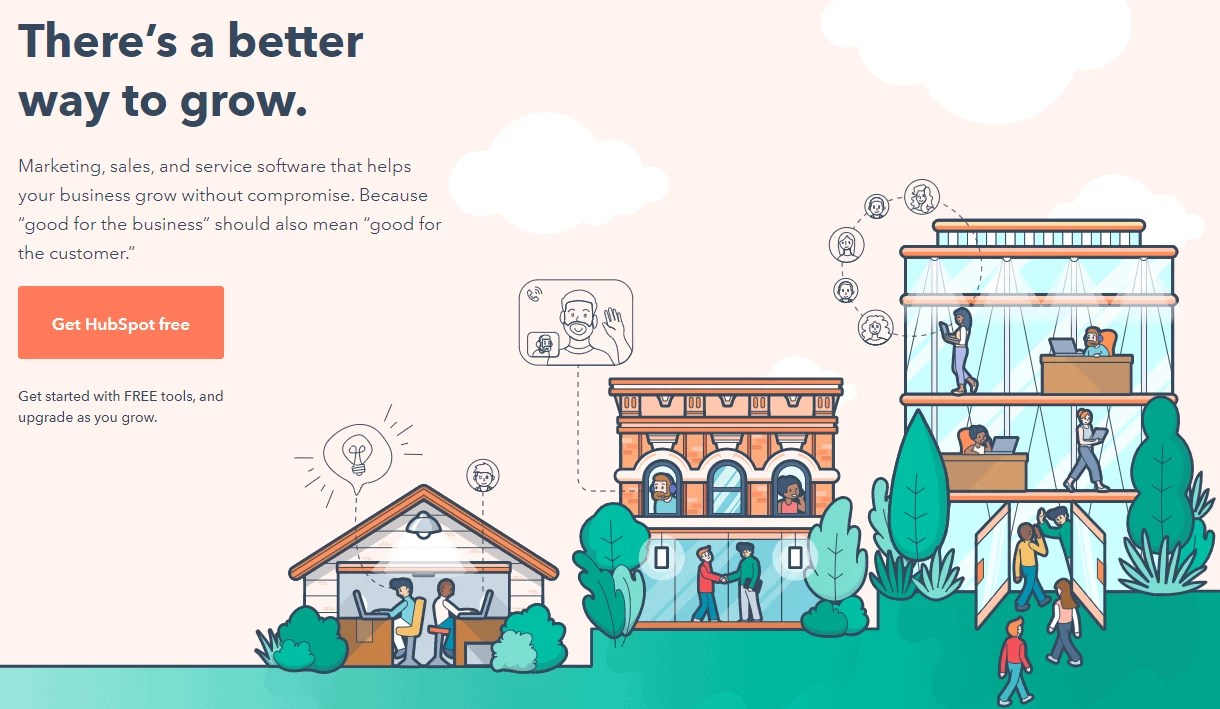 One CRM platform most marketers know is HubSpot. It's a pioneer in marketing automation. HubSpot is easy to use, easy to navigate, and feature-packed.
With HubSpot, you can automate a lot of your daily tasks such as email logging, call recording, data management, and social media management too.
Other features that HubSpot is used for include email marketing, chatbots, contact management, pipeline management, performance reporting, and sales tracking.
Price: Essential CRM features are free, and other features start at $45 a month.
EngageBay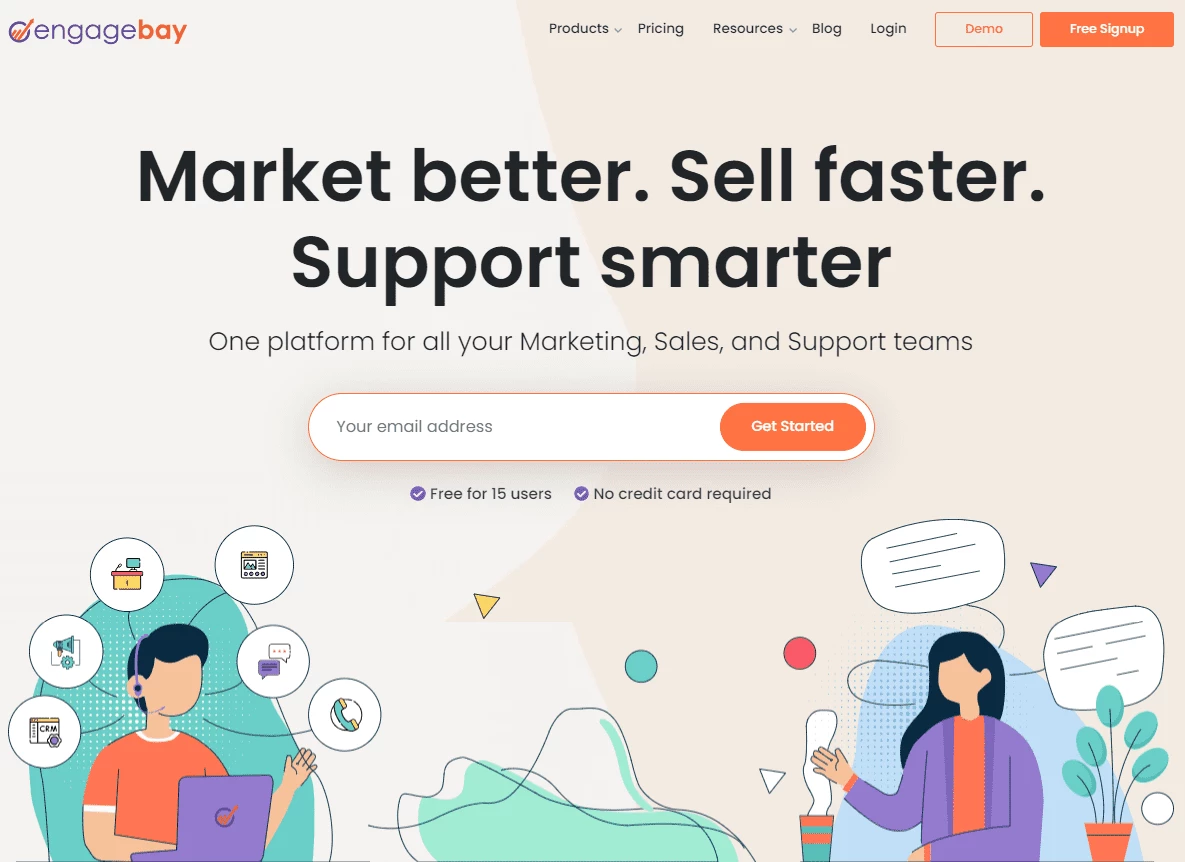 EngageBay is a CRM automation tool that's been designed for small businesses. It has all the features you need to manage your leads and sales, as well as automate your marketing tasks.
One of the best things about EngageBay is its price. It's very affordable, which makes it perfect for small businesses on a tight budget.
With EngageBay, you can automate your email marketing, SMS marketing, social media campaigns, and lead management. You can also create custom workflows to automate your sales process.
Price: Free plan lasts forever, paid plans start at $12.99 a month.
7 CRM Automation Functions that Help You Generate More Revenue
Now, let's delve into the really important part of this article. If a software tool offers all these CRM functionalities in one affordable package, you should shortlist it right away.
1. Lead Management Automation
Leads are the lifeblood of your company. It is a no-brainer that if your lead generation dries up, your revenue dries up too. Lead management automation is hence the most important feature here.
Lead management helps in mining and capturing leads from different channels and tracking their progress at every step of the sales funnel.
You can then use the data to categorize your leads based on your criteria. You can categorize leads from different channels like email marketing lists or social media platforms, and make a set of qualified leads faster and more efficiently.
Once this is done, lead nurturing can ensure that over time, your customers are ready to pull out their credit cards.
A lead management automation platform will keep your sales team updated with live customer data so that they can just focus on closing the deals.
2. Reporting and Analytics
CRM reporting and analytics is a core CRM feature. It will provide you with summaries and analysis of all the performance metrics relevant to each role on your CRM suite.
This will help your company use real-time insights to refine your sales and marketing campaigns and make smarter, data-backed decisions for your business. This analytical CRM function is among the top features you should look for.
This function can help you stay on top of diverse CRM metrics like profitability, customer interaction, buying patterns, sales performance, and conversion rates.
For example, a profitability report will help your team understand which customers:
Make the largest contribution to revenue

Are loyal to your brand

Have the potential to buy from you again
3. Marketing and Email Management
When you integrate your CRM with a marketing automation system, this can truly be a game-changer.
By automating steps in the marketing-to-sales process, your team will have more energy to focus on overall strategy and nurturing leads that show true promise.
Marketing automation can give you a clearer picture of customer behavior, with methods like tracking a user's path through your website, the bounce rates on your website, etc.
The CRM marketing automation tool will help you round up information from diverse touchpoints like website visits, downloads, social media activity, SMS marketing, webinar hosting through CRM as well as direct marketing.
This information will help your sales team score, prioritize and qualify leads.
Your team can also drive marketing campaigns like infrequent drip-feed emails to maintain interest, personalized emails, trigger-based marketing messages, and social media messaging.
Read also: CRM Database Overview, Structure, Tips and Strategies
4. Workflow Automation
Workflow automation is the process of using predefined business processes to automatically trigger certain actions to complete a particular activity.
By automating the workflow, companies can easily automate manual tasks to reduce human error, boost productivity, and remove bottlenecks.
Here's an example of workflow automation for an invoice:
Using workflow automation, one team member shares an invoice with a client for review. Instructions get automatically populated in the file.

The client receives an automated reminder about the pending document and a deadline for approval and revisions.

If revisions are to be made within the workflow management, this gets automatically updated. You can track all of this in real-time.

After addressing revisions and comments, the original sender gets an update about the approval of the invoice when the client e-signs.
This process can be applied to a wide variety of tasks but is particularly helpful for processes that involve numerous documents and apps.
Read more: 10 Ways Workflow Automation Makes Your Day Easier
5. Sales Forecasting
Sales forecasting is another key part of your revenue cycle and customer relationship management. As a marketer, you would want your sales forecasting to be as accurate as possible, right?
That's why the tools you use to create sales forecasts must be pulled directly from your CRM software.
For example, if you're using Salesforce, then you need Salesforce automation, or you will need Microsoft automation for a Microsoft Dynamics CRM. This is why your CRM software needs to be up-to-date and integrated with other sales force automation tools.
Sales automation can ensure that your data is updated regularly and is pulled accurately into your sales forecasts.
Here are the three key ways sales forecasting automation can help your business:
Easily sort historic data and get accurate reports. If your sales reps have to manually pull data from various sources, it can get tiresome and time-consuming. A major benefit of automating your sales forecasting is the ability to retrieve clean, accurate data straight from your Customer Relationship Management or CRM tool. Sales forecast automation allows for efficient opportunity management — leading to more revenue for your small business.
Plan and predict for the year. Visibility into the sales data can allow your sales leaders to make accurate predictions on anticipated revenue and close gaps, if any.
Streamline your sales and revenue process. Manually creating documents for each opportunity takes away from the valuable time when sales reps could be focusing on customer experience and building customer relationships. Automating your sales forecasting can help you refine and make data-driven decisions based on accurate reports.
Read more: Sales Forecasting: Comprehensive Guide For Small Business Owners
6. Proposal Management
Creating business proposals that contain valuable and personalized content for your clients is no easy feat. It can only come about through a collaborative team effort.
Without business proposals, there are no B2B sales, and with no sales, there is no revenue.
Automating the proposal management function within your CRM can give you an easier, modern, and cost-effective way to collaborate on and deliver proposals at the right time to the right client.
Automating this process can allow you to hit the sweet balance between sending out irrelevant or outdated data to your clients and wasting their time and wasting your time by over-personalizing them.
With the right proposal automation, your sales team can create templates for proposals, share documents across multiple platforms, reduce version control issues, and allocate tasks in real-time with your team, creating a truly collaborative CRM solution.
In addition, creating proposals faster can help your sales teams get more meetings and send proposals to a larger number of prospective clients.
All this will translate into more sales and more revenue for your company.
7. Customer Support Automation
Customer support automation is the cherry on the cake in terms of creating a great customer experience.
You may have heard this also called contact center automation or call center automation. In today's digital age, customers now expect instant help with issues they're facing, and also expect these experiences to be personalized and specific.
This is where customer support automation becomes your friend.
Studies found that 89% of customers prefer interacting with companies by messaging, but only 50% of companies offer this option. This is why chatbots are gaining traction too.
Customer service actions like real-time voice calling, live chat, basic FAQs, and automated responses are very helpful for your customer service staff.
CRM automation for customer support can make your process more efficient by faster customer query management, faster responses to flagged queries, and assigning reps for social posts. Not only this, you will have expanded service hours and multiple channels for customer care.
A study by Capterra found that 72% of customers say having to repeat their issues to multiple agents is the main cause of their bad customer service experience.
CRM automation functions can make sure that every customer issue is passed on to the right person at the first instance to save time and cost per interaction. This helps nurture good customer relationships too.
Read more: 9 Awesome, Proven CRM Techniques to Improve Your Marketing ROI
Conclusion
Investing in CRM automation functions can be one of the best business decisions you make, whether you're a small business or an established enterprise.
The right CRM software with automation tools can help your sales and marketing teams perform better, be it task management, proposal management, or your social media campaign.
What automation functions and CRM systems do you think would work for you the best? Do let us know in the comments below.
If you want to know how EngageBay can help your CRM needs, just sign up for free and we can schedule a product tour!