Having a valuable CRM experience in your resume is like the chicken and egg dilemma. You can't gain solid CRM experience without working and you can't land many CRM-related jobs without basic experience of how CRMs work.
Or can you?
Excellent CRM experience that catches attention in a resume goes beyond having a customer relations job. It involves highlighting compelling capabilities employers are looking for and the value you offer.
For individuals starting from scratch, this can be tricky to pull off. But not anymore. Why? Because we'll be taking off the lid to uncover everything you need to know about CRM experiences from top to bottom.
In this guide, we'll explore:
What CRM experience is

Why CRM experience matters

What a good CRM experience looks like in a resume

The CRM job market

Salary of a CRM experience manager

Must-have CRM-focused skills

How to get CRM experience

How to include CRM experience in your resume (without lying) 😉
Let's start from the top.
What is CRM Experience?
Before we get into the specifics of CRM experience, let's define customer relationship management (CRM).
Customer relationship management is a strategy for building positive customer relationships, from discovery to the post-purchase stage. It also often refers to technologies that help businesses with:
AND many more!
If you've ever used CRM software or developed a basic CRM strategy that improved the bond between a customer and a brand, that's CRM experience in a nutshell.
For a newbie, a quick CRM experience doesn't have to be business-related. This could involve sending your friends new product updates based on their previous purchases. Or delivering thoughtful presents to specific colleagues you haven't heard from to reconnect.
These are personal-level examples and you'll find tons of resources on EngageBay to help you improve your CRM skills and become a professional in no time. We'll discuss these resources later on.
Read also: How to Become a Sales Director: Skills, Qualifications, Salaries, and JD
Why CRM Experience Matters
CRM offers many profitable returns when implemented correctly. With a good CRM experience, businesses can unlock multiple growth opportunities. Here are some of the main benefits of having experience with CRM data and why it means a lot to employers:
Improve Customer Satisfaction
Customer communication typically happens across multiple channels. Think Live Chat on websites, social channels, mobile apps, and so on.
Each of these interactions presents an opportunity to create a personal connection with customers. When you have a quality CRM experience, you can tap into it to capture and track a customer's basic contact information, demographics, purchase history, or even previous complaints.
Armed with this data, delivering personalized experiences becomes easier. This means better follow-ups, timely anticipation of needs, and exceptional service to boost customer satisfaction and fuel customer retention.
Drive Sales
Gaining key customer insights allows you to make data-driven decisions that drive sales. But without proper CRM experience, you don't get a handle on customer insights, your company loses revenue, plus, they lose the amount spent for purchasing the CRM software.
These are nightmares for forward-thinking businesses and it was the exact situation for an Alaskan fundraising team that missed out on critical data because they couldn't use a complicated CRM software that cost $10,000 /year.
Chew on that for a second … $10,000 per year.
$10k is a lot of money for a piece of software.
The worst part? You can't use this kind of software to quickly learn the basics of using a CRM because they don't have a free plan for you and they are not so easy to use according to the review.
On the contrary, you can gain all the CRM experience you need by jumping on the EngageBay free plan which has a ton of functionalities and is also easy to use.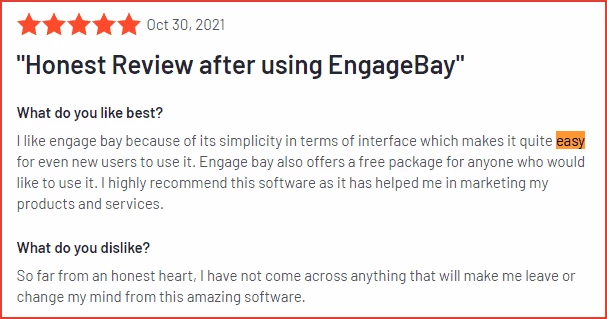 Increase Productivity
Like in the Alaskan company, CRM automation can do more harm than good to productivity when implemented wrongly. Having CRM experience mitigates—or even eliminates— this problem. You can automate repetitive tasks, thereby saving massive time.
An all-in-one CRM software like EngageBay takes you even further. You can go beyond sales to streamline activities across marketing and customer support for better productivity.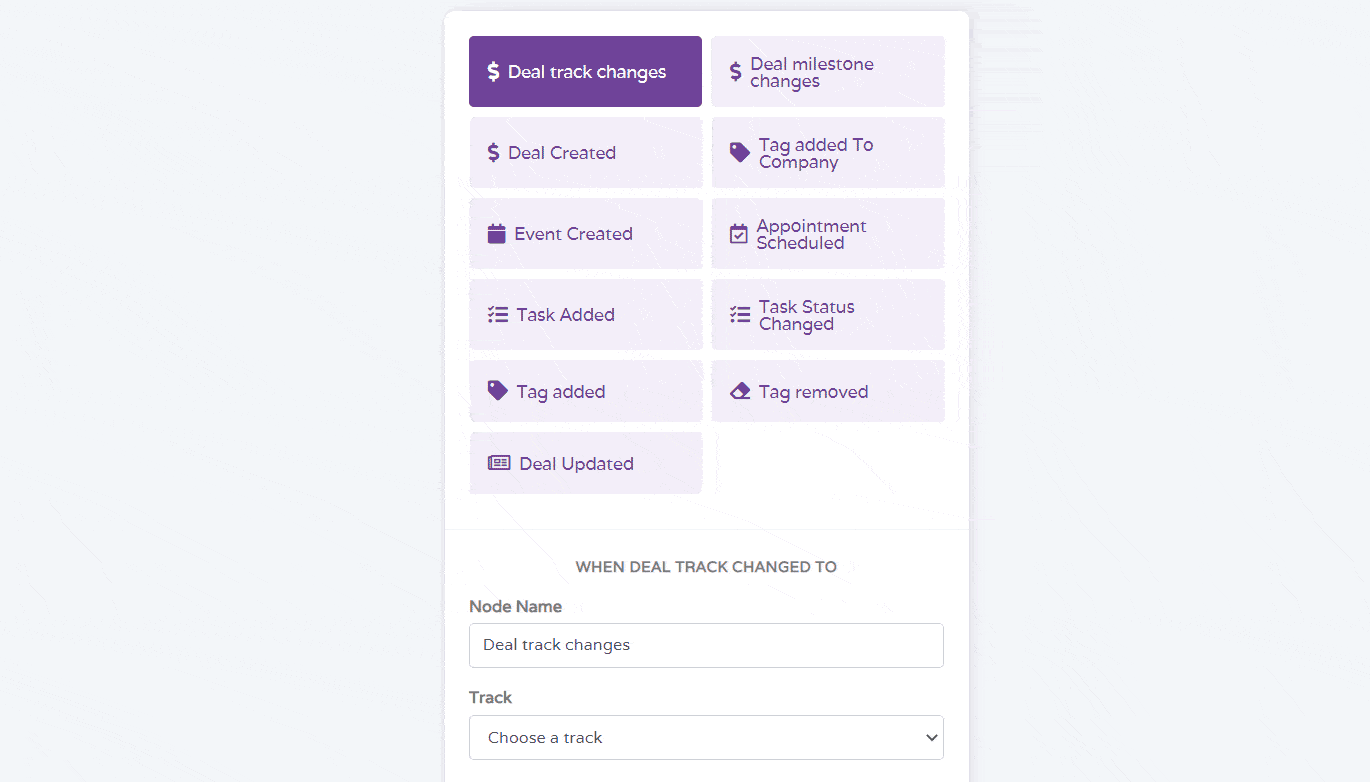 Enhance Sales & Marketing Processes
Getting maximum results from CRM processes and tools relies heavily on your CRM experience. For one, it allows you to understand customer behavior, deliver highly targeted campaigns, and track performance through your CRM.
Seasoned salespeople can even generate custom reports, build pipelines, and spot sales opportunities. Additionally, departments can collaborate by using their CRM to access information faster and close deals faster.
Read also: CRM Experience: How Customer Satisfaction Tools Get Business Success
What Excellent CRM Experiences Look Like in Resumes
CRM experience involves performing relevant CRM duties.
Below, we'll discuss some of these responsibilities and what they look like in a resume.
Build Customer Relationships
Building and improving customer relationships make up the bulk of your CRM experience. As in the resume above, you'll deal with:
Customer complaints

Coordinating a personalized outreach

Assisting with end-user software adoption

Anticipating clients' needs throughout their lifecycle.
This responsibility also includes understanding all aspects of existing services and products and their value to each customer segment.
Essentially, the activities you undertake should satisfy the customer's needs and create a better customer experience.
Develop CRM Strategies
Driving and meeting KPIs is a valuable CRM experience that makes your resume stand out. Some KPIs to look out for are:
Each KPI depends on your goals. For instance, let's say you work in a hypothetical firm that struggles with poor customer experience. Some CRM metrics to track are the net promoter score (NPS), customer churn, customer effort score (CES), and expansion revenue.
Read also: 9 Awesome, Proven CRM Techniques To Improve Your Marketing ROI
Manage Internal CRM Implementation
Many CRM implementation horror stories stem from poor user adoption. In larger organizations, you may work with a specialist to speed up implementation. But in small to mid-sized businesses, you would likely oversee the training of other teams to use the software.
Ideally, you may create internal usage guidelines, schedule training, and monitor adoption. CRMs like EngageBay have a detailed knowledge base with step-by-step guides that makes usage of the EngageBay CRM a piece of cake.
Read also: 9 Challenges of CRM Implementation & How to Dust Them Off
How Popular are CRM Jobs?
Short answer: very popular.
As more businesses automate customer relations, the global CRM market size continues to grow, promising a CAGR of 13.3% from 2022 to 2030. With this growth comes more employment opportunities in the CRM space.
For example, on LinkedIn, there are over 29,000 customer relations manager jobs listed within a week. Other related roles generate 20,000+ weekly listings as well within the platform.
These opportunities also exist on other platforms like Indeed where there are 164,000+ diverse CRM roles in the US alone.
You can filter results by experience level, educational qualifications, and salary estimates.
What is the Salary of a CRM Experience Manager?
According to Glassdoor, a CRM experience manager in the United States earns $112,484/yr.
ZipRecruiter reports a comparative salary between $46,000–$127,000 yearly.
This pay is typically for senior positions or experienced individuals.
Associate roles earn slightly less at an average of $59,144 per year. For a few, it can stretch up to $110,000.
Other technical roles like Dynamics CRM consultants and Technical Relationship Managers rake in as high as $131,953/yr and $128,1109/yr.
This shows that you're in a good position to earn fair compensation whichever path you choose.
5 Must-have CRM Experience Skills for Resumes
To crack a customer-facing job interview, you'll need more than just an impressive-looking CV.
Take a look at the essential skills you'll need to master for any field of work that requires nurturing customer relationships.
1. Communication
CRM jobs require effective communication skills to help you interact confidently with clients and team members. Your ability to write great emails, have phone conversations with customers, communicate technical steps to a non-technical audience, and share your ideas with management is vital.
Excellent communication undoubtedly relies on listening as well. CRM reps should be able to draw from the customer's feedback to provide valuable assistance.
2. Interpersonal Skills
While communication skills deal with expressing yourself, interpersonal skills include your communication and attitude. It deals with empathy, your conflict resolution approach, and how well you get along with others.
For instance, let's say you're dealing with a frustrated customer who received a wrong order. Good interpersonal skills allow you to put yourself in the client's shoes. It helps you proffer the best solution for the customer, which may be an immediate replacement rather than a refund.
3. Leadership Abilities
CRM managers are often responsible for leading customer-facing teams and managing expectations. This entails:
Giving and receiving feedback from team members and top management

Setting SMART goals

Empowering your team with tools, knowledge, and support

Delegating responsibility

Proactively managing delivery time frames
4. Familiarity with CRM software
CRM tools automate the processes involved in building customer relationships. You'll often use these tools, so you should be familiar with the common ones in the industry.
Here are some of the best CRM software you should know:
EngageBay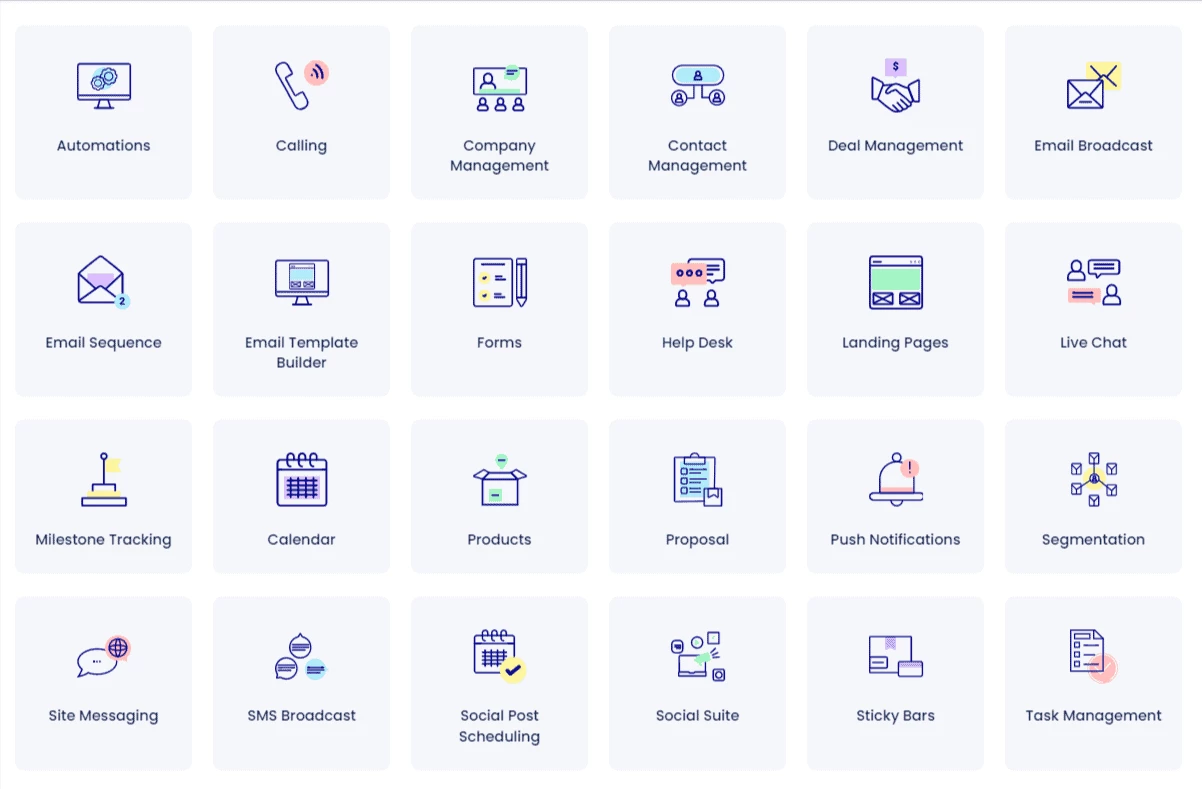 EngageBay is an all-in-one CRM software for marketing, sales, and customer service. It allows teams to perform a range of tasks such as automating workflows, nurturing customer relationships, and delivering targeted marketing campaigns.
Its powerful, easy-to-use features make it ideal for both beginners, intermediates, and experts. EngageBay has a free plan with great features, making it a go-to option for anyone who wants to learn a lot about CRM.
HubSpot
Known as one of the leading CRM software, HubSpot provides features like pipeline management, deal tracking, and analytics. The basic CRM features are free to use in HubSpot, but you'll need a premium subscription to get the most out of it. HubSpot is ideal for businesses of all sizes, from large-scale enterprises to small businesses.
Insightly
Insightly CRM allows you to route leads, streamline workflows, and manage your email marketing. You can also use its dargah and drop feature to customize your dashboard for better data visualization. This software is ideal for small businesses.
5. Analytical Skills
Customer relations managers rely on data to get a 360-degree view of the customer throughout their lifecycle. You should know how to define your KPIs, track performance, and uncover patterns.
Sharp analytical skills for a CRM manager include:
Keeping up with industry news and trends

Conducting CRM competitive research

Developing effective customer relations strategies that drive results.
How to Get CRM Experience
The best way to get CRM experience is to get a CRM-related job. However, it's rarely the easiest option or even the first step for beginners.
Below are additional ways to develop relevant skills and build your CRM experience.
1. Study Available CRM Resources
Studying resources on customer relationship management is a great way to start your journey. Thanks to the massive information on the internet, you can find nearly every resource you need. This includes books from experienced professionals, articles, and video tutorials on what you'll need to succeed.
On EngageBay, we have several CRM-related resources that are free. You can freely access our YouTube tutorials, Marketing Bay, Sales Bay, and Service Bay.
2. Take Certification Courses or Training Programs
Another way to gain CRM experience is through certification courses. These courses are great for dipping your feet in the water and they show employers that you are familiar with CRM processes and can put your CRM knowledge to use.
You can try out Udemy CRM courses, starting with the basics and working up your way to the advanced programs.
3. Join CRM Communities
CRM communities allow you to make personal connections and network with professionals who might help build your career. You can ask questions, gain insights, make friends who will recommend you for a role, and also find open job positions.
While some communities are niched, others are general with individuals across various business roles. Here are some communities to check out:
4. Volunteer
Volunteering is another smart way of acquiring hands-on CRM experience. You can get volunteer CRM jobs by searching for local non-profit organizations that need assistance. They may need help in managing donor lists, building campaigns, and planning events.
Besides physical search, you can find the latest non-profit CRM volunteer opportunities online. While some allow you to search for related jobs, others have the functionality of filtering by location like Catchafire, GozAround, VolunteerMatch, and UnitedWay.
How to Add CRM Experience to Your Resume
A well-written resume is your last stroke toward getting your CRM job. By the way, if you want to get a great resume you can reach out to Zipjob reviews which is a great professional writing resume services.
To get it right, you need to tailor it into a powerful asset that highlights your CRM experiences and captures the attention of recruiters.
Here are some ways to do it:
Basic Information
Add your contact details at the top of your resume. List necessary information that makes it easy for hiring managers to find you.
This includes your phone number, personal email address, and social profiles (preferably, LinkedIn). Leave off your marital status, date of birth, and headshot.
Professional Summary
First impressions matter. That's why you need this section to have a compelling hook that reels in the recruiter. A great professional summary highlights your relevant skills, experience, and outstanding achievements.
Entry-level applicants with no work experience can write an objective statement instead. Summarize your transferable skills, achievements, and a career-transitioning sentence.
Assuming you're transitioning from social media management to CRM roles, a sample career objective statement could be something like this:
"Creative and performance-driven Social Media Manager with 2+ years of experience in crafting winning strategies for eCommerce businesses. Increased engagement (63%) and social media sales (30%) within 8 months. Seeking to advance my career by joining the FIJI team as an entry-level CRM representative."
Work Experience
Once you've caught the hiring manager's attention, it's time to show them why you're the right applicant.
Opt for your most recent and relevant experiences over older projects.
List your responsibilities for each work experience with bullet points. Be sure to start each sentence with power verbs like "achieved", "developed", and "led". An example is in the resume above. Include the CRM software you implemented and the results you had.
Most people prefer listing job responsibilities together with achievements. Others take the option of highlighting their key deliverables separately from their work experience. Either way works. And if you don't have any professional experience, add your volunteer work and internships.
CRM Experience Skills
Complement your work experience with a skills section that emphasizes your CRM experience.
The resume above does a remarkable job of displaying the applicant's full capability—software proficiency, exact processes mastered, and soft skills.
Also, include other applicable skills we mentioned earlier. This includes interpersonal, communication, analytical, and leadership skills.
Certifications and Education
This section features practical and theoretical knowledge you've acquired. Your highest degree (university-level) should come first before others. Add relevant badges and awards too.
For your certifications, aim for industry-recognized licenses from credible organizations. This is a major booster as it shows your CRM software proficiency.
Wrap Up
Business owners want to have marketers, salespeople, and customer success specialists with CRM experience. Why?
Generating new businesses and keeping existing customers happy remains a primary business goal. With the right CRM experience, you can become the go-to person for building customer relationships and driving impressive business results.
But first, you have to be open to learning.
Use the online resources we've shared in this piece, take courses, and continue learning to make yourself the best candidate for CRM-related roles you apply for.
And if you want to speed up your CRM learning experience, just sign up for a free EngageBay account so you can practice what you learn in real-time.