As you've learned from the first two chapters of our landing page guide, there are many kinds of landing pages available for businesses. For instance, you might make a landing page to draw attention to an upcoming event, to drive sales to a product or service, to boost traffic, or to generate more leads.
These landing pages should all look different from one another. A landing page for your company's service might be testimonials-based. Other landing pages will rely more on a strong copy and call-to-action buttons. Other included elements, such as videos and opt-in forms, may appear only on some landing pages.
If you are yet to design your first landing page, you want to get it right the first time. You'll want all the elements to stand out without distracting from your core offer or goal.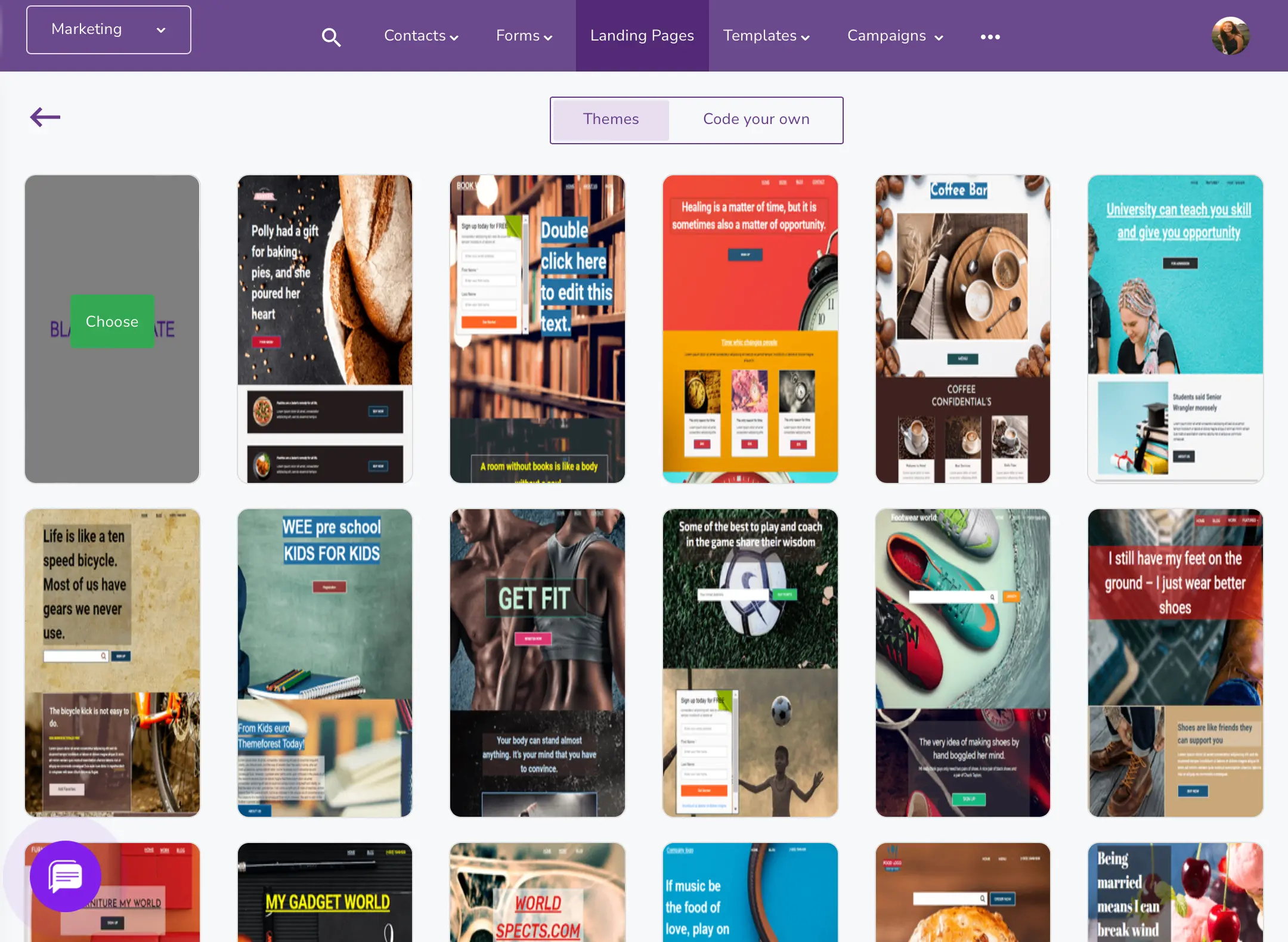 Making the perfect landing page can be difficult if you've never done it before. However, there are landing page templates across the Internet that will arrange everything just the way you want it. All you have to do is drag and drop; it's often as simple as that.
Not all landing page templates work the same way, though. The ones you can get for free are sometimes very bare-bones because the company is hoping you'll pay for their premium templates. You may sometimes strike gold and find great free templates, but it's no guarantee. The probability of free templates being useful is very less.
If you want to use landing page templates instead of designing your own from scratch, this chapter is for you. We'll explain how to find the most suitable landing page template to make your own landing pages that can convert leads.
What is a Landing Page Template?
A landing page template is merely a blueprint of your final landing page. The template may be simple or elaborate in design. It's all based on your business goals and your personal preferences. In fact, if you have something in mind and you're using the right landing page software, you can customize your landing page template for a wide range of features, from header and footer design to the images within.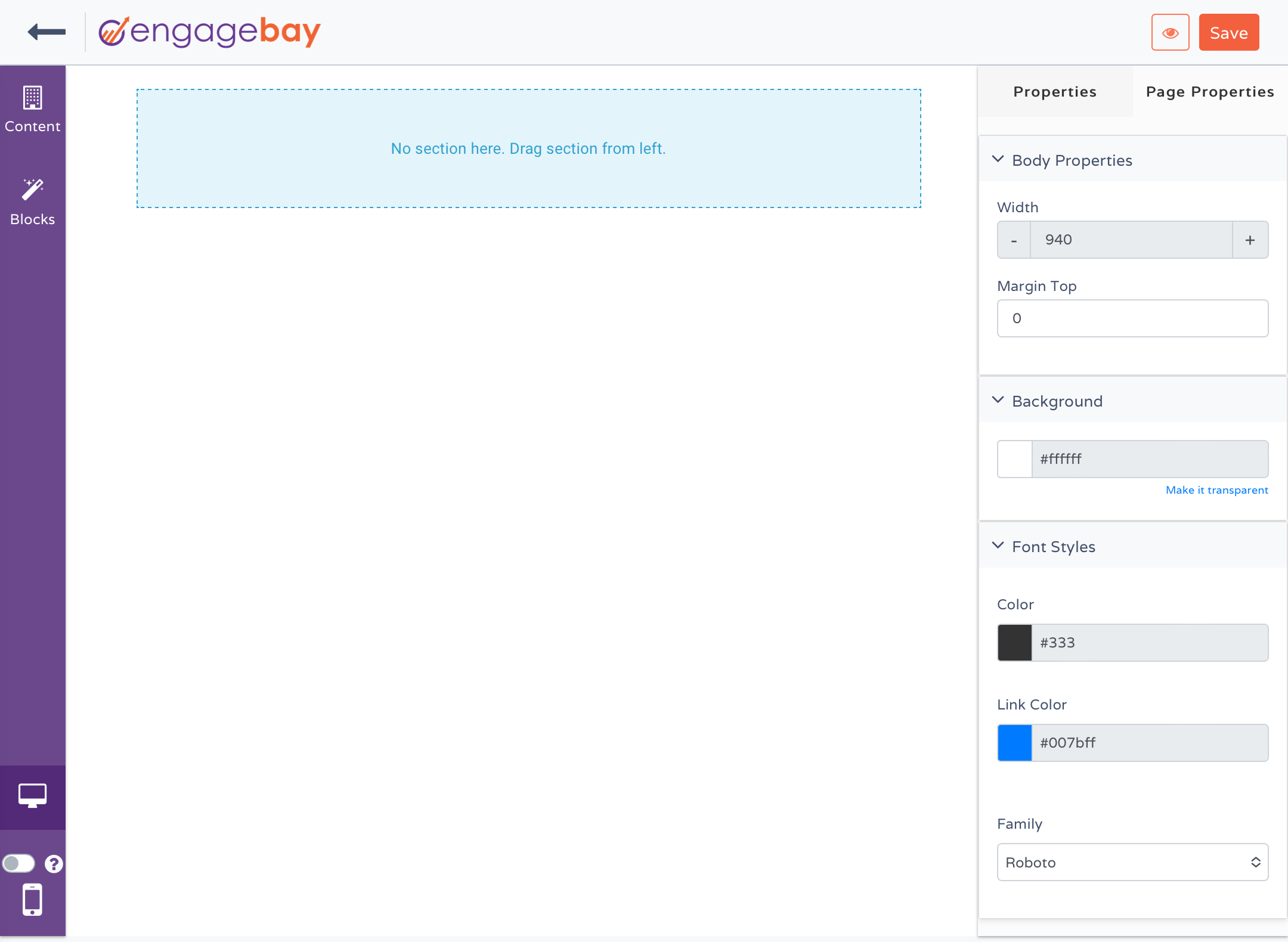 There are landing page templates available that correspond to most landing page types you might want to make. These include content marketing landing pages, event promotion landing pages, affiliate landing pages (with affiliate links), PPC landing pages, and lead gen and product or service landing pages.
Free vs. Paid Templates: A Dilemma
As a small business owner, you know it can cost quite a bit to even get started with marketing.
It's likely you've had to pay for your website design, marketing software, payroll programs, and countless other things. When a free service fortunately comes along, such as templates for your landing pages, it can be very tempting to go for the free option.
Some companies will indeed let you design your landing page for free using their templates. Should you always use these? That depends.
You have to look at these free templates the same way you would look at a free website builder. Does it get the job done? In most cases, it does get the job done. However, free services like these often give you very few options. The same would be true of a free landing page builder.
If you plan on making a simple product/service landing page (or even a basic lead gen page), you may be able to get away with a free template. These pages don't have very complex designs, so even if you don't get a wealth of drag-and-drop options at your disposal, you won't feel like you're missing out on anything. Your page also won't look like it's lacking something.
Once you decide to implement more advanced elements like videos, call-to-action buttons, and opt-in forms, you will probably have to pay to customize your landing page.
If you do your research, you'll find there are countless companies and agencies that specialize in landing page template design. We're going to talk more about these companies in the next section. We do caution here that you should always do your homework. Shop around and compare pricing plans before choosing a company.
The Advantages of using Landing Page Templates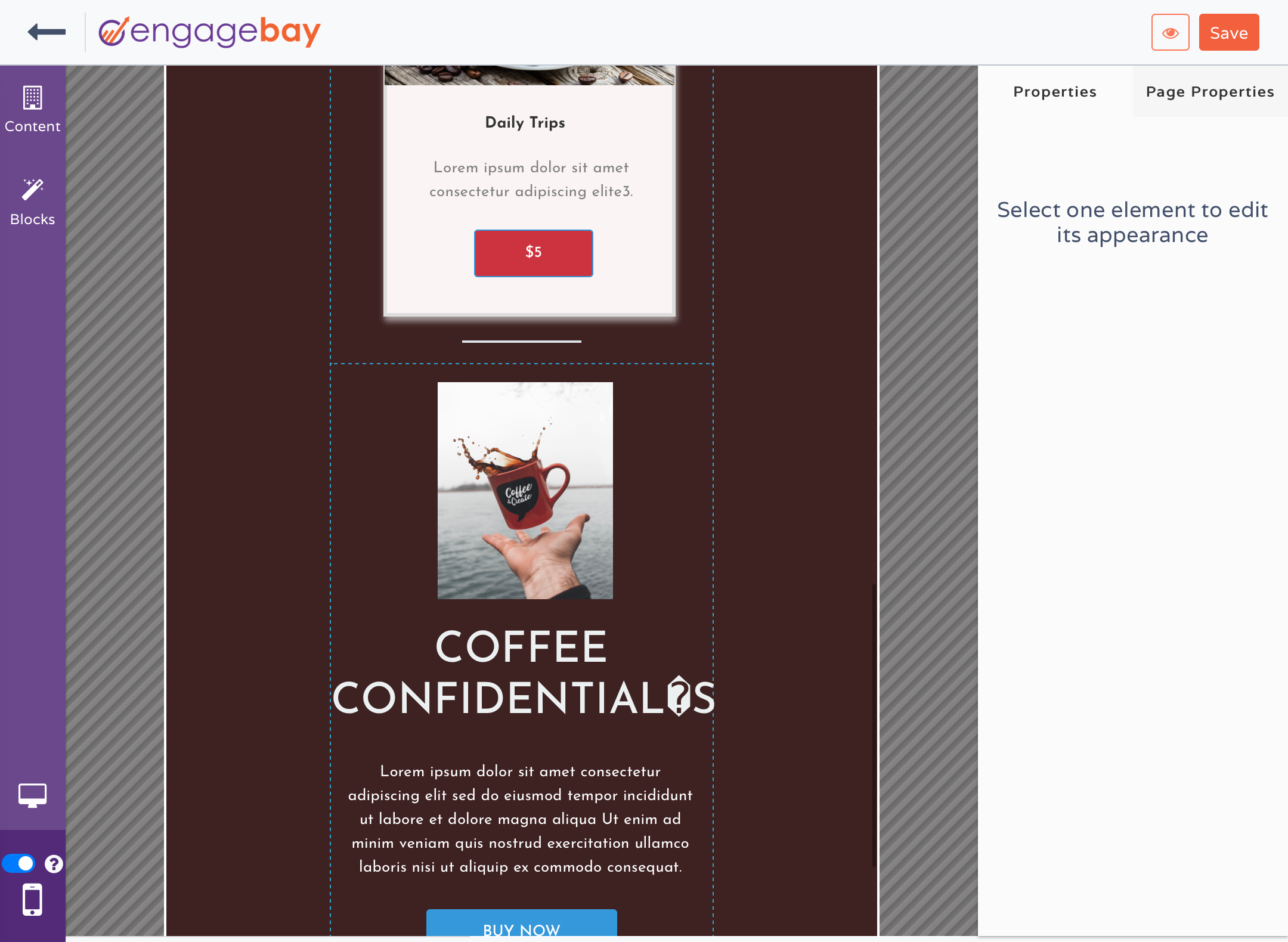 Using templates to make your landing page can be useful in many ways, such as:
If you're a busy business owner or marketer, you can save time.
You can save money if you choose free landing page templates.
You can design your landing pages based on your taste instead of trial-and-error with a creative agency.
You can ensure your landing page is made correctly the first time itself, which again saves time and money.
You can customize your landing page for your business goals, such as making more sales, building engagement, or acquiring more leads.
Most landing page templates are simple and easy to use, so even those who aren't particularly tech-savvy can design their own landing pages.
You can make small tweaks and changes to your landing pages easily when you use templates.
The Disadvantages of using Landing Page Templates
As beneficial as using templates can be for small business owners, sometimes they hurt more than they help. You must always shop smart, as mentioned above. Prioritize finding the right templates the same way you would any other major business decisions and you should make a smart, financially-sound choice.
Here are some ways templates can cause problems for beginner marketers and first-time business owners alike:
Free templates are often very limiting; your landing page may look plain and unfinished.
Paid landing page templates can be costly depending on which landing page platform you choose.
Unless you make significant customizations to your template, there's probably a company out there that has already used the same template. This removes any sense of uniqueness, and worse, you could be accused of copying the other company's website design. Your credibility can take a hit.
How to choose the right Landing Page Template
We're not discouraging you from using templates to design your landing pages. In fact, we know that templates can be extremely convenient if you've never built your own landing pages. You can also make quick changes to the layout of your page anytime.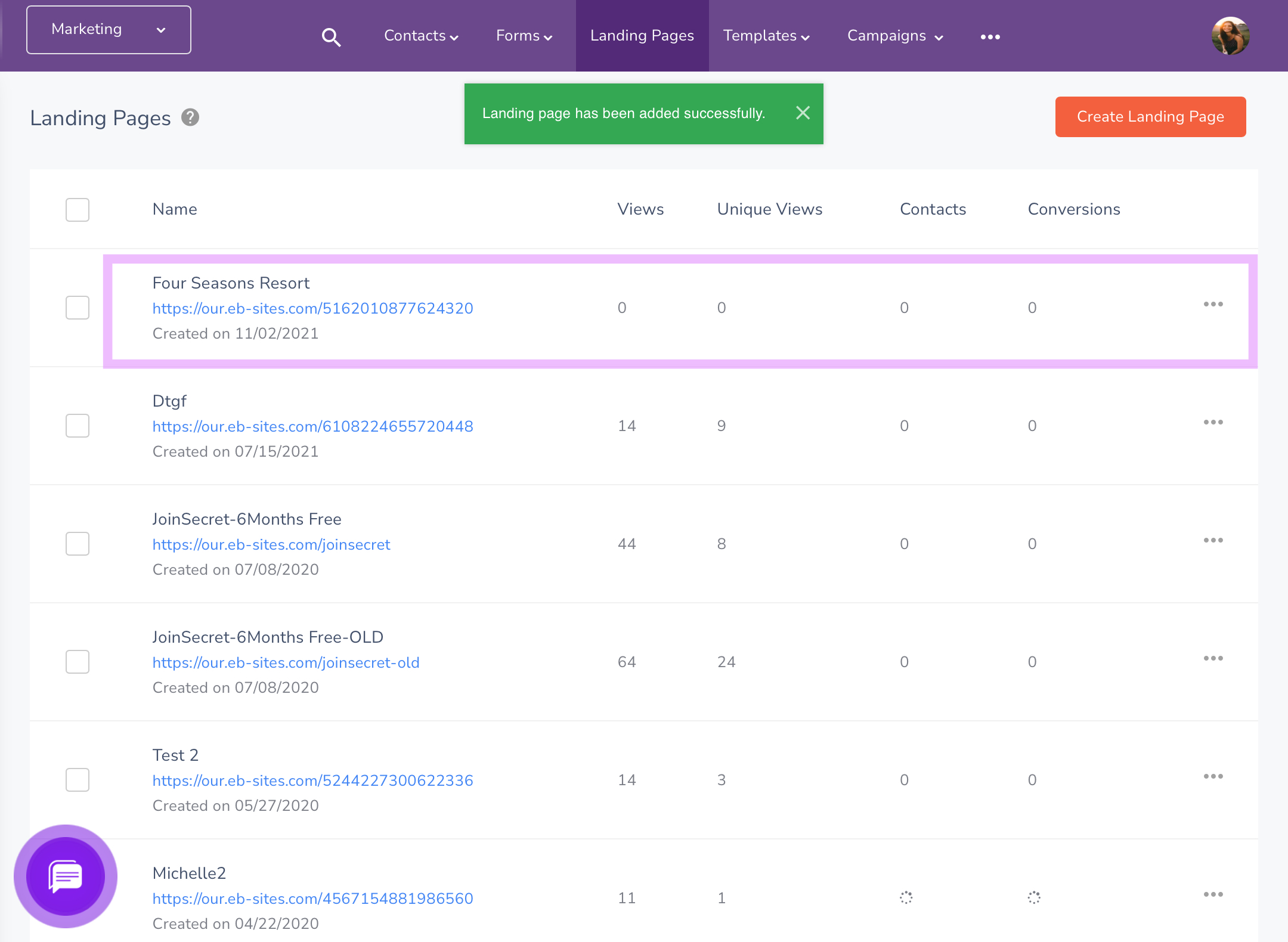 The ease of use starts with choosing the right option. There are many landing page template builders and a good CRM can equip you with myriad options but how do you know you've selected the right template for your landing page? We'll explain here.
Design
A good landing page template should have a wealth of design options. If you want a basic landing page that lets the copy or the explainer video shine, then you don't necessarily need a whole lot of bells and whistles. Conversely, if you want a page that is going to encourage a lead to subscribe to your email newsletter, you should be able to add appealing visual designs as well. Having more options than you'll ever need is ideal.
Functionality
Your template should allow you to make landing pages with every design element you can imagine. These include videos, images, opt-in forms, privacy policies, pop-ups, lightbars, call to action buttons, and more.
The landing page should work for desktop users and it has to be mobile-optimized as well. Mobile optimization refers to the same website being automatically adjusted to different screen sizes - like smartphones, tablets, laptops, and other mobile devices. Websites that are not optimized for mobile may have misaligned menus, stretched or undersized images, overflow text in block elements, and other disappointing design flaws.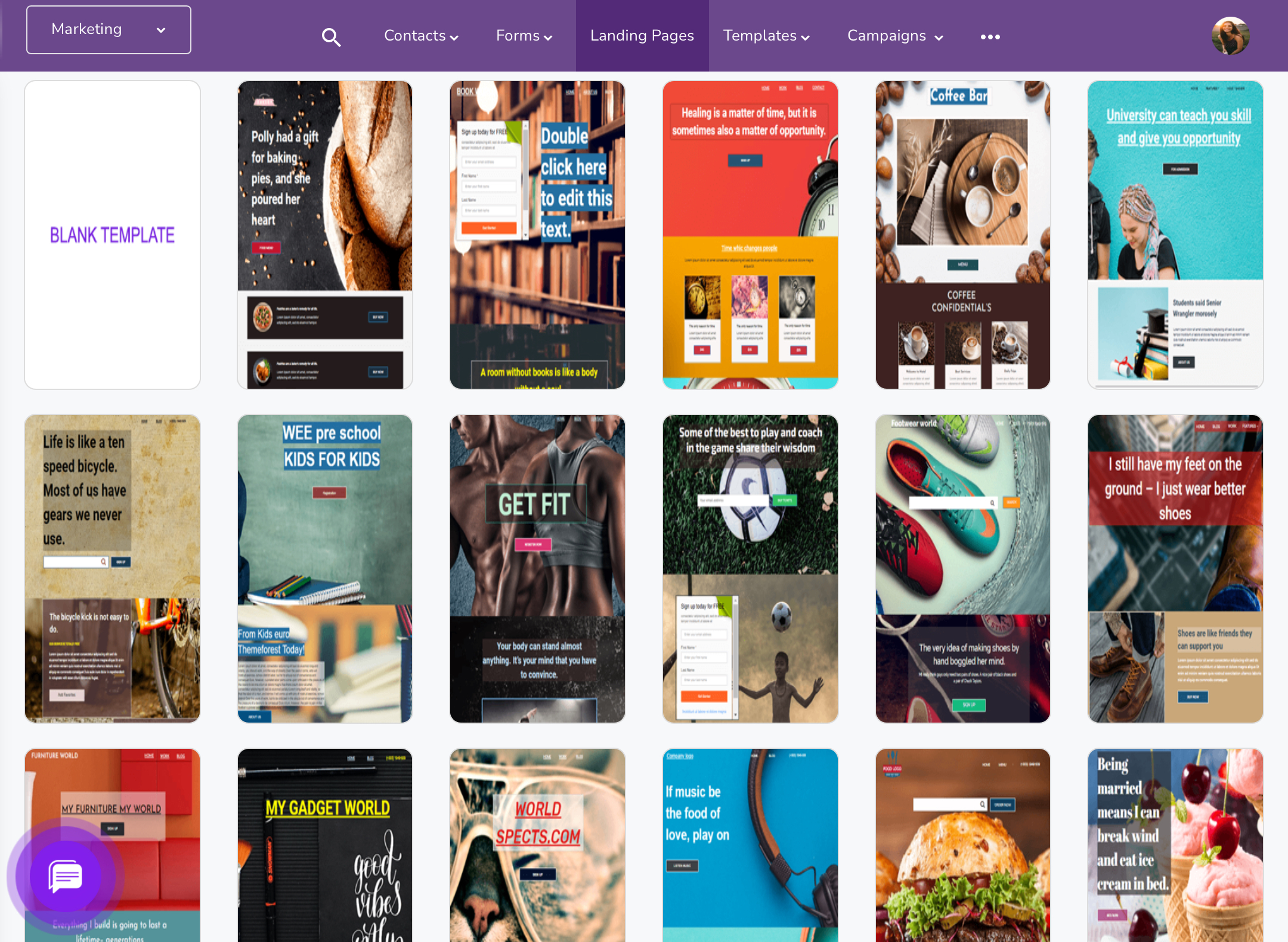 Leads or customers who go to access your landing page via mobile should see a well-designed and simple to navigate page. If they don't, they will move on and probably choose one of your competitors.
Mobile optimization is a basic pillar of good website design in the modern era of internet marketing. If your landing page isn't yet optimized for mobile, it's worth spending time and money to change that.
Ease of use
It should be easy to arrange the elements of your landing page via the template. Some platforms let you drag and drop elements so you're not expected to know basic HTML for formatting the design. After all, the latter can be very time-consuming and confusing if you don't know any coding.
At that point, if your template is hard to figure out, you might have to hire a designer to make the page for you. This is probably not what you want, so keep searching and comparing plans until you find an easy-to-use template with plenty of customization options.
Price
Most companies and agencies that provide templates for landing pages don't do so for free. You may get a 30-day free trial, but eventually, you'll be expected to start paying to avail more features.
As you can see from the examples above, some companies deal exclusively in template design. Others provide more marketing services. Research the cost of what you're getting before you sign up for a subscription.
A/B Testing
Once you've chosen a template that works for you, you're going to want to A/B test the first version of your new landing page against your old one.
What is A/B testing? It is also known as Split testing. It involves comparing two versions of the same element against one another to see which one satisfies a common goal better. You might A/B test two versions of your homepage, sales page, and your landing pages.
By reviewing metrics such as traffic, conversions, sales, and customer feedback, you can determine which version of the landing page works well with your customers. You should A/B test often, especially when you change a major content or design element.
With drag and drop templates, you should be able to make small changes like change the color of your call to action button or a headline in minutes.
Conclusion
Templates can save you time when creating the perfect landing page for your business. You also save money because you don't have to hire a third-party design company to make the landing page for you.
There are both free and paid landing page templates, with the latter being much more common. You can often use paid templates on a free-trial basis. A good landing page template should fit your budget. It should also be easy to navigate and have a variety of design elements to choose from.
Once you've designed a great landing page using a template, the next step is to drive traffic to the page. In Chapter 4, we are going to discuss how to do just that.