We have discussed automated email templates in Chapter 3 of this guide. We also went over the various types of automated email templates such as autoresponders, content upgrades, support emails, and feedback emails.
Now that you know a bit about email automation, email personalization, and email templates, you might want to know - How do you access these templates?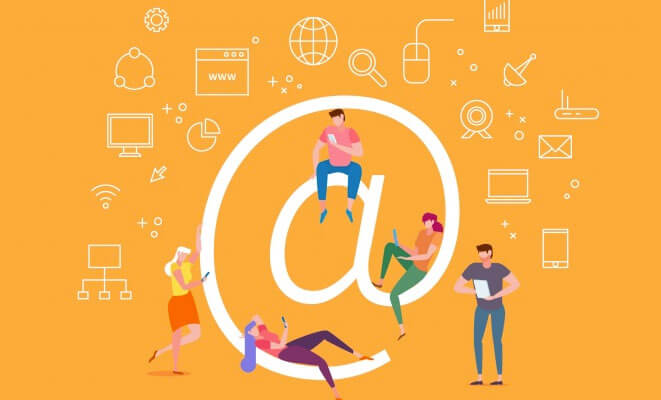 Email templates and personalization tools are often part of an email marketing solution. You may find some email templates separately, but to use them, you still need an email automation software.
Such platforms and tools are paid services (sometimes free) that let you send out mass emails anytime and from any place. This provides great convenience to marketers. With an email automation software, you can get a great ROI, as it can help you ramp up your email outreach in very little time.
By using email personalization like we discussed in Chapter 4, you can nurture your leads with automation tools and without losing the "human element".
If you're a startup or a small business, you don't always have a lot of funds to spare. You want to be sure of every investment.
In this chapter, we will discuss the most popular automated email marketing platforms. We'll also mention some options that are more affordable for startups and small businesses.
Recommended tools and platforms for Email Marketing
Let's dive right into the tools and platforms that will get you the best results with your automated email marketing campaigns. For each of these tools below, we have also shared the price of their plans and links to the company's website. This will help you compare and contrast these tools by your own, as you try to find the best option for your business.
EngageBay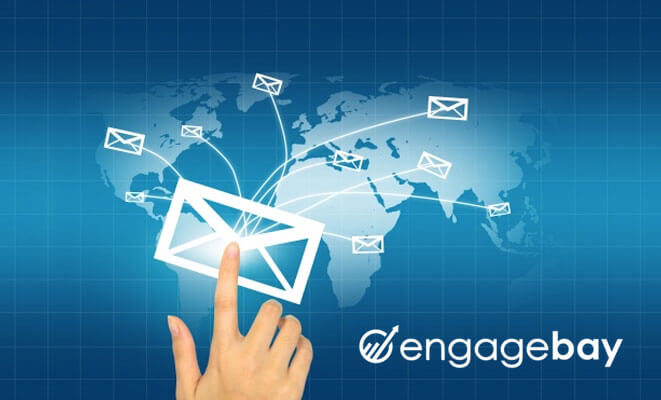 Of course, we couldn't talk about automated email marketing and other marketing automation without mentioning EngageBay.
Our all-in-one marketing suite has many preset templates for sending quick emails to leads and customers. You can even customize your email templates to address specific segments of your audience.
EngageBay's fluid email builder is a state-of-the-art email design tool. It goes beyond the traditional drag-and-drop creation process for email templates. With other email builders, you can customize templates by creating sections, by adding new components individually. This takes time and effort; it makes email creation a chore.
EngageBay has templates for individual sections, so that you can add new sections just with one click. All templates are highly customizable. With EngageBay's individual section templates, you can go beyond the basic ways of email construction and truly start designing your own unique emails.
Our email builder also has social sharing buttons, images, visual design elements, and a text editor. With audience filters, you can effortlessly find the portion of your audience you're trying to reach. You can also review the success of your automated email marketing campaign with built-in analytics and important email metrics.
There's more than email marketing with EngageBay. The software also includes a content management system, account-based marketing (ABM) campaign tools, event tracking and data syncing automation, a landing page builder, a customizable web form designer, social media engagement and tracking, and a full-fledged CRM bay. EngageBay even integrates with Zapier to maintain the backward compatibility.
The Sales & CRM Bay offers all deal management and lead information tools in one place. Because the Sales team is accessing the same data as the Marketing team, the teams will always be aligned and on the same page. The 360-degree customer view lets you see every interaction your team has had with every lead and customer - all from a single screen in a nifty "timeline" format.
EngageBay Payment Plans
EngageBay is an affordable alternative to expensive software like HubSpot. That's why our plans begin at just less than $10 per month. Most features are available at less than $3 per day. That's a price that even startups and small businesses can pay, and happily so.
There are annual and biennial plans to reduce the pricing even further. Our most extensive plan costs less than $64/month (when paid annually).
MailChimp
MailChimp is arguably the most well-known automated email marketing platform. Although it began as an automated email service, it has grown to specialize in almost all things automation. You can create Instagram and Facebook ad campaigns, landing pages, and customized signup forms. You can also conduct A/B tests, optimize your site for mobile use, segment your audience, reach out to abandoned-cart users, and review your marketing efforts with analytics.
MailChimp Payment Plans
One of the reasons MailChimp is so popular is because of its Forever Free plan. You never have to pay, but you get only the most basic services. For instance, each month, you can only reach out to a maximum of 2,000 contacts and send a total of up to 12,000 emails. Email support and live chat from MailChimp is limited to 30 days. You don't get custom branding and most of the segmenting and targeting features.
With MailChimp's "Essentials" plan, you pay $10.48 per month for 500 contacts. Here, you get more features than the free plan. However, you do not get Pro support, comparative analytics reports, and multivariate A/B testing.
There's also a "Premium" plan that offers all the features at $313.15 per month. In this plan, you get unlimited premium support, popup builders, landing page designers, email campaign managers, Instagram and Facebook ads, Google remarketing ads, marketing automation, A/B testing, and analytics.
Constant Contact
Another automated email marketing service that comes up a lot is Constant Contact. Unlike several other tools on this list, Constant Contact specializes exclusively in email automation. It has templates you can use to arrange and customize your emails your way.
You can integrate your emails with your social media profiles. Constant Contact even recommends images and captions to use for more visibility and better engagement on social media. With tracking tools, you can determine the success of your social media and email campaigns with metrics like view counts, click rates, open rates, and more.
If you already have your contacts in Outlook, Gmail, or Excel, you can upload and track your contacts with Constant Contact. Their system manages inactive emails, bounced emails, unsubscribers, and new subscribers, so you don't have to. It also offers targeted emails, email series, and email personalization according to a lead's anniversary, birthday, or opt-in date.
Constant Contact Payment Plans
You can start with their one-month free trial. There are discounts available for small businesses. When you do pay, there are two plans to choose from: Email and Email Plus. Here's a breakdown of the pricing for each plan.
For the "Email" plan, first 500 contacts will cost you $20 per month. As your list grows, you will pay $65 per month until you reach 5,000 contacts. If you can spare $95 per month, Constant Contact provides up to 10,000 contacts.
For the "Email Plus" plan, which includes all the basic and advanced services, you will pay $45 per month for an email list of 500 contacts or less. If you are looking to scale, Constant Contact provides the "Email Plus" plan at $335 per month for up to 50,000 contacts.
ActiveCampaign
For email marketing and other marketing automation features, you might consider ActiveCampaign. This company offers A/B testing, dynamic content, subscription forms, email segmentation, sales and CRM solutions, and messaging services.
For your email marketing campaigns, ActiveCampaign lets you personalize all fields in your emails and use tags for greater personalization. You can also include conditional content that varies by audience segment and campaign. There are many email templates to choose from with drag-and-drop customization options. The templates are optimized for mobile use so you don't have to worry about losing your traffic from mobile platforms.
Email scheduling, automated workflows, drip campaigns for new contacts, date-based email campaigns, autoresponders, and one-time email capabilities are the rest of the services from ActiveCampaign. There's also A/B testing and analytics built into the services for tracking lead engagement and conversions.
ActiveCampaign Payment Plans
It's recommended you choose a plan based on the number of contacts you have. The Lite package is $15 per month for only three users in your company. You do get unlimited emails. For $70 per month, you can add 25 total users and get SMS marketing, contact scoring, performance reporting, and more.
For $159 per month, the Professional plan supports 50 company users and offers additional features such as website personalization, site messaging, and predictive content.
ConvertKit
ConvertKit is another choice if you just want to focus on automated email marketing. This platform lets you track your subscriber list by segments, handily organizing all subscribers with tags. If you decide to send regular newsletters or even single emails, you can use their "Broadcasts" features to choose exactly what content to send and when to send it.
If you want to be more hands-on, there's the drag-and-drop sequences builder. You can also use automated workflows to apply simple "if this, then that" rules. There are customized opt-in forms to give your subscription box a personal touch. Like the rest of the tools on this list so far, ConvertKit offers reporting via a homepage dashboard. Here, you can review opt-in conversions and other valuable metrics.
ConvertKit Payment Plans
You can choose monthly or yearly billing plans. If you have 1,000 or fewer subscribers, the $29 plan is right for you. If you have up to 3,000 subscribers, you'll pay $49 each month. For up to 5,000 subscribers you will pay $79 per month, but without advanced features such as lead scoring.
All plans have unlimited email sends, unlimited customizable forms, reporting, subscriber tagging, and visual automations. You also get live chat and email support as well as integrations with more than 70 tools, apps, and programs.
Conclusion
When it comes to automated email marketing, many business owners and marketers like yourself trust tools and software to do the job. It's a good idea to invest in one email automation tool. EngageBay has emerged as a great value-for-money product, beating even market leaders for its bang for the buck.
While we have detailed the email automation and personalization platforms here, you must decide what you find best for you. After all, business growth with customer satisfaction is priceless!